meeting the needs of MS patients and families
People with multiple sclerosis are often faced with financial obstacles that can limit their access to basic necessities. Having MS can be stressful enough without dealing with these challenges. The ELC Foundation is a 501(c)(3) non-profit corporation founded in 2011 by Dr. Ellen Lathi and Dr. Joshua Katz to assist with the many unmet needs faced by multiple sclerosis patients, their families, and caregivers. The organization supports educational programs and a Financial Assistance Program for people with multiple sclerosis. Over the years
The Financial Assistance Program helps decrease the financial burden of such needs such as:
Durable medical equipment and assistive devices

Service dog program expenses

Occupational therapy evaluations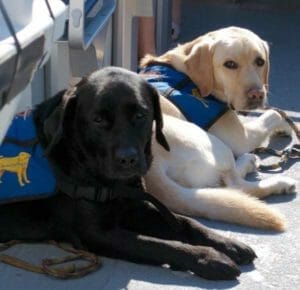 To apply, complete the ELC Foundation Assistance Application to provide basic information about your request and the financial amount being requested. Applications must be completed, submitted, and reviewed before making purchases or beginning any projects. Once approved, the ELC Foundation will make payment directly to the vendor.
You can complete the application on our website or download it here.
The Foundation reviews requests as they are received, and decisions are typically made within a few weeks. If you have any questions or need additional information or support, please contact us.
Foundation Sponsored Educational Programs, Events, and Support Groups
The Foundation sponsors a number of programs and groups for patients with multiple sclerosis, their families, and caregivers. We also open these offerings to the community.
Annual ELC Education Day typically includes a health fair, brunch, special presentations by our physicians, and Q&A. All are welcome. ELC Education Day 2023 was held on Saturday, November 4, 2023. Read about the event here 

Wellness Series presentations by our physicians and guest experts
The ELC Foundation has proven to be an invaluable safety net and support for our community. You may donate to the ELC Foundation online or by mailing a check to:
The ELC Foundation
c/o Marissa Shackleton
110 Cedar Street, Suite 110
Wellesley, MA 02481
We thank you for your generous support.
Second Annual Fundraising Campaign
The ELC Foundation had its first annual fundraising campaign in Fall 2022. The goal was to receive contributions of ANY size from as many donors as possible! Thank you to all who made it so successful!
We're hoping 2023 will be even more successful, allowing us to support more patients with multiple sclerosis. The Foundation has provided funding toward wheelchair ramps, hand control adaptations, stairlifts, art therapy & more. By making a contribution, you are truly making a difference for patients and families living with MS. Our mission is to provide services and durable medical equipment for people in need, particularly for items not covered by insurance. We strive to make everyone's life a little easier and increase independence.
Please consider a tax-deductible contribution to The ELC Foundation. No amount is too small. Every dollar counts!